Welcome

Thank you for visiting our website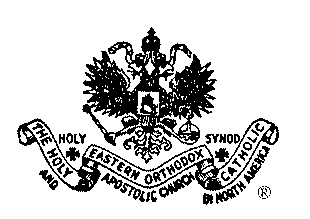 To God be the Glory
+ + + + + + + + + + + +
Orthodox Catholic Church
Archdiocese of the American Province
Under the Omophorion of Patriarch Nikon
of the
The American Orthodox Patriarchate
Established by the North American Holy Synod of
THEOCACNA, a canonically established Orthodox Church, seeks Canonical Orthodox clergy interested in helping this church grow.
We seek Canonical Orthodox Clergy who are unhappy with their present situation and ready to transfer to a church where they feel they can fulfill the ministry they have been prevented from offering in their flock.
The Holy Eastern Orthodox Catholic and Apostolic Church in North America
**American Orthodox Catholic Church**

Western Rite
NOTICE:
This website contains Historic Church information
of
The Holy Eastern Orthodox Catholic and Apostolic Church in North America.
Written by Archbishop Victor
former Metropolitan Primate of
the canonically established
THE HOLY EASTERN ORTHODOX CATHOLIC AND APOSTOLIC CHURCH IN NORTH AMERICA
Canonically established


Feb. 2, 1927 by the Synod of Bishops in North America of the Russian Orthodox Church (Moscow Patriarchate). This same Church continues today as the same Orthodox Church we were established as contrary to some claims by those of the independent movement.
NOTICE
Please visit our domain at www.theocacna.org or our website at http://theocacna.tripod.com/index.htm. Email us at byzantine_orthodox@msn.com if you have any problems with the site or comments.
A note about us: We are the American Orthodox Catholic Church! This has been our short name since we were chartered in 1927. Others like to try to claim they are us and use this name. All it shows is they are liars. Our original name which is in the banner of our Logo and the Logo are registered service marks of this Canonically established Church. We are also the American Orthodox Patriarchate.
True Orthodox Church in Exile
Exiled when the ethnic orthodox churches turned their backs on this canonically established Church and her clergy, contrary to the Canons of the Orthodox Church, supposedly because of the act (marriage) of one clergyman.
-----------
About us
We are a traditional Orthodox Church. We follow Holy Scripture, Orthodox Canons, the Rudder, and Orthodox Tradition. We were established as an Eastern Orthodox Church but now we mainly use the Western (St. Andrews) Service Book which was approved for use by the Western Rite congregations of the Antiochian Orthodox Christian Archdiocese in North America in 1989. This is referred to as "authorized liturgies and other rites and ceremonies" for use by the (Antiochian) western rite clergy and laity and after discussion and prayer by the North American Holy Synod this Western Rite Service Book was adopted for use by the North American Holy Synod of THEOCACNA. We also offer the Byzantine Eastern Liturgy of St. John Chrysostom. When we were chartered* by the Russian Orthodox Synod of Bishops in North America with the knowledge and approval of the Moscow Patriarchate in 1927 we were then and are today the only Orthodox Church in our rightful jurisdiction, i.e. the new world, according to the Oct. 1932 newspaper article about our synod posted elsewhere on this site.
Our short name is the "American Orthodox Catholic Church" and has been since 1927. North America is our jurisdiction and Central and South America are our mission territories. The Russian Church in Moscow is basically the only Orthodox church in Russia as is the Greek Church in Greece but all claim a right to establish their churches independently in North America. They do not have a canonical right to do this. That is why they ignore this Church because they want a "part of the pie, or wealth" from the New World (North America).
In an effort to resolve these old issues with the ethnic churches we would enjoy an open dialogue with an ethnic Orthodox Bishop who might care to assist us with resolving some issues related to Canon Law and Orthodox Tradition possibly as a Synod advisor.
+ + + + + + + + +
89th Birthday
On February 2nd, 2016 THEOCACNA will celebrate the 89th anniversary of our being canonically established by the Russian Synod in North America of the Moscow Patriarchate. North America is our canonical jurisdiction. Please pray for this Church and our continued growth.
+ + Update + +
Episcopal Church USA
Due to the Turmoil within the Episcopal Church USA we wish to offer a home to any members and clergy who decide to withdraw from this Church. We do not support Schism and feel your joining with us could be the answer to your problems. The Western Rite Service Book, known as the St. Andrew's Servce Book, is in many ways based on the Book of Common Prayer. We wear both Eastern & Western style vestments. Being a part of this Church would be, in many ways, like you were still part of the early Episcopal Church when the 1928 BCP was in use. Prior to the early 1930's the Episcopal Church and the Orthodox worked together. We do not support the issues now destroying the Episcopal Church.
Please note that one of our former priests has been accepted, without re-ordination, as a Priest of the Episcopal Church USA.
Memo to clergy
If your disenchanted with the Church your with and have a desire in your heart to serve where you would feel your ministry is doing good and helping people please feel free to contact us. We are very interested in meeting with those clergy with a background in the old world Orthodox Tradition as well as former Roman Catholic clergy who left for a valid reason such as a desire to marry.
In the old world established orthodox churches the liturgy from Church to Church is very similar. In the independent Churches you find a great variety of services and in one independent group you might find a dozen different services since it seems each "priest" and "bishop" does their service of choice.
Not so in this Church. Our Synod has determined that in this jurisdiction we use the American Orthodox approved Western Rite Liturgy. The synod has also determined that we shall use the Byzantine Eastern Liturgies - The Liturgy of the Presanctified Gifts, Liturgy of St. John Chrysostom and the Liturgy of St. Basil.
+ Synod Note +
Any clergy accepted into this jurisdiction must use only the approved liturgies of this Church.
We offer a home to orthodox groups and individuals who desire canonical ties, a link to the ethnic old world Churches and to those groups who have lost their bishop. We are unable to assist overseas persons interested in joining us because we have no bishops outside North America and the British Isles.
We seek qualified Clergy
This Church needs to grow with individuals who have an active ministry and believe that they are Orthodox. We are the Church to contact if your tired of being lied to by others who claim they are us and make many other false claims. Our Patriarch is the true successor of Archbishop Aftimios Ofiesh of Blessed Memory who was appointed Presiding Archbishop of this Church when we were founded and chartered by the Russian Synod of Bishops in North America in 1927. In 1928 Abp. Ofiesh incorporated this Church and we continue today as the same Church.
We seek clergy and religious to allow us to grow and to expand our ministry and parishes across the U.S. We also seek bishops from other jurisdictions interested in workng with the American church. The Metropolitan offers a room or small apt. to a suitable priest or deacon able to assist him. When the Texas property is sold the Metropolitan plans to move further west to establish a monastic community or retreat center.
- - - - - - - -
PROPERTY NEEDED
This Church needs a Benefactor.
We seek a benefactor to help us locate a suitable Church building for our Cathedral.
Also, in an effort to establish a monastic community and due to health problems the Metropolitan plans to relocate to a more arid climate. The Church is offering our apartment house near Sudan (Tx) for sale. This property is in an area where rental property is scarce and in demand.
We are seeking a suitable parcel of land by Donation or Land Contract. Please contact us if you have suitable property.
We have a petition for a concordat of communion pending with a SCCOBA Church. We already have a letter from a Roman Catholic Diocese that allows us to give communion to Roman Catholic's.
- - - - - - -
We do not support war and the killing of innocent americans in the name of military service for any reason and especially for the rich to get richer by increasing our cost of living such as higher gas prices due to man made oil shortages and Arab and American price gouging. Nothing more than Greed.
The majority of the clergy and directors oppose Capital punishment.
CONTACT INFORMATION:

Archbishop Victor
Patriarchal Vicar
Mailing Address:
P.O. Box 121,
Sudan, Tx. 79371 USA

1-806-227-2214

The Holy Eastern Orthodox Catholic and Apostolic Church in North America
American Orthodox Catholic Church



E-Mail Adddress:
theocacna@webtv.net
Comments about this web site may be submitted to: info@theocacna.org
The Patriarchal logoŽ and graphics on this site may not be transferred or used on other World Wide Web sites without permission.
The material on the domains are copyrighted 1999-2009 The Holy Eastern Orthodox Catholic and Apostolic Church in North America.
No part of this site -- including the content, logos, or other graphics -- may be utilized or reproduced in any form or by any electronic or mechanical means, (including transferral to other web sites, photocopying, recording, storage in a datebase or other information retrieval system), without express, written permission. All rights are reserved under international copyright conventions.